Long Term Evolution
IN BULLETS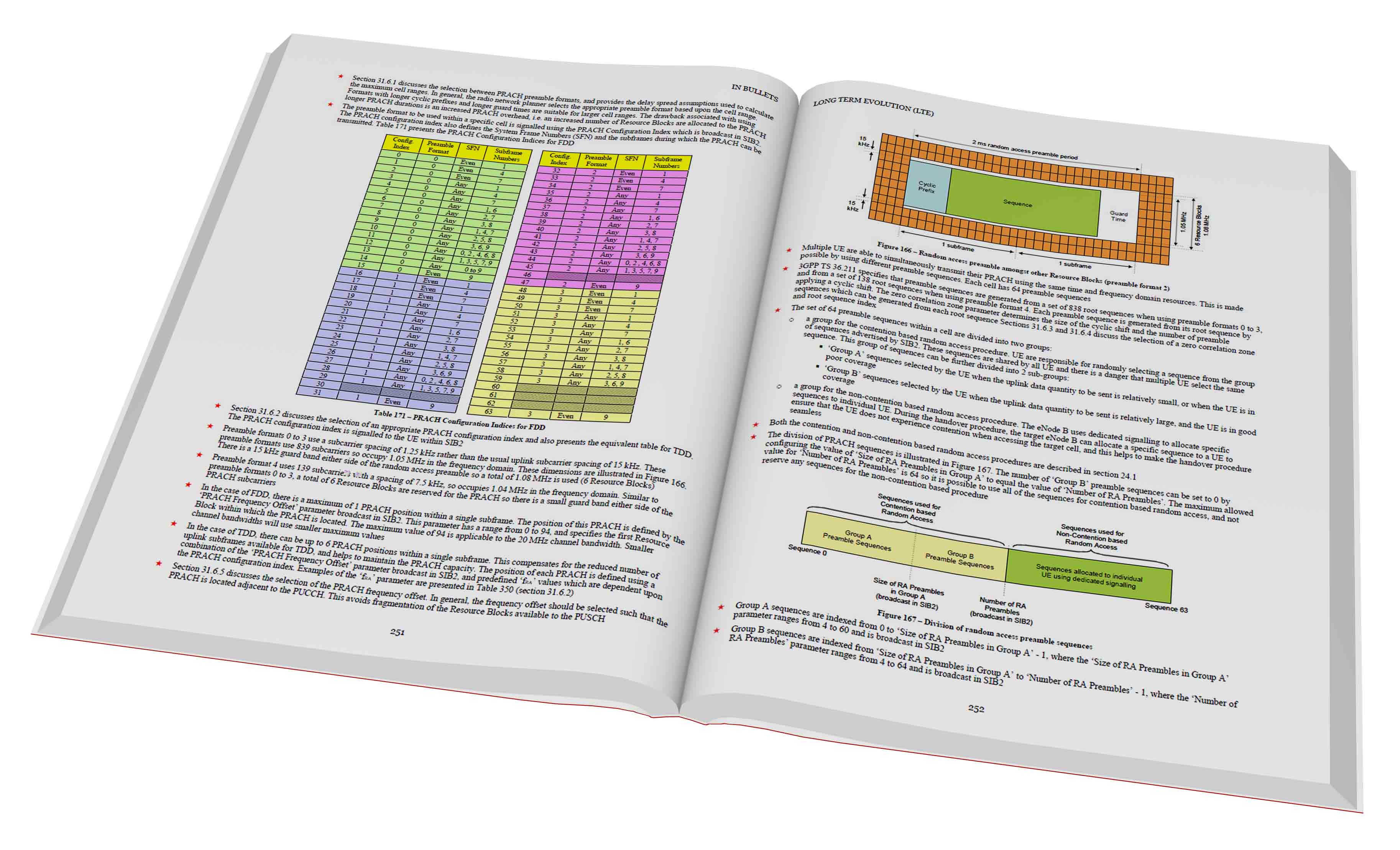 The reviews presented below have been received from readers of the Long Term Evolution IN BULLETS book. To have your own review included please send to contact@lte-bullets.com
Reviews for the 2nd Edition
"We had several copies of the 1st edition - it's essential reading in the office, and all copies are well thumbed. The latest edition is a triumph, very detailed and a great reference." Paul Tindall, Cognovo, July 2012.

"Just got the second edition of the book from Amazon this weekend. Definitely a big improvement over the already fantastic first edition. The coverage of TDD and LTE-Advanced features have made this book an essential reference." Sivan Ramachandran, Tejas Networks, July 2012.

"The first edition of this book was well thumbed so I was pleased to see a greatly expanded second edition. The layout of this book is fantastic - very clear. This is how technical books should be for a busy engineer, with no terse text or space filling derivations. Arguably this is the most accessible and useful LTE book in the market and has been very helpful to me. Looking forward to the third edition!" Bill McGrory, Airwave Solutions Ltd, May 2013.

Reviews for the 1st Edition
"I just received my copy of your LTE book and I must congratulate you - really well done!!! Concise content and the somewhat new presentation format, simply great." Achim Wacker, Nokia Siemens Networks, May 2010.

"This book is providing momentum to my personal development in LTE - the lay-out and printing quality is excellent and the delivery was on time - a must have." Thorsten Hagedorn, Nokia Siemens Networks, May 2010.

"The book wrote in a style of well-organized and highly-summarized ways which makes LTE theory easy to understand and helps get a whole picture for most of the important LTE technologies. The interpretation of 3GPP Specifications is really excellent. You can see the great benefits when read 3GPP spec and have this book alongside." Wilson Zheng, Optus, June 2010.

"Congratulations on a very clear and useful book, this is certainly one of the best references on LTE physical layer" Cyril Valadon, Mstar Semiconductor, June 2010.

"It's between a conventional reference book and a powerpoint training course. Much easier to read than a conventional reference book. Greater detail and more complete explanations than a powerpoint training. Definite recommendation for anyone learning about or working on LTE" Pinaki Roychowdhury, Telefonica O2, July 2010.

"Thanks a lot for the book. Its really nice and helpful for me. Great done." Avijit Saha, Nash Technologies, July 2010.

"I bought it from Amazon and it was really a quick read. Enjoyed reading the book from start to end. Never thought reading LTE can be this easy. Thanks for writing a book in this style" Nauman Shafi, Ericsson, August 2010.

"A good reference maunual that helped me bridge from WiMAX to LTE in very concise easy bullet form. I wish there were more handy books like these for working engineers in the field of Telecom, enforcing the concepts with good illustrations, job well done" Harish Vadada, Ericsson, November 2010.

"I am writing regarding your extremely useful and well done "LTE in bullets" book. I found it by chance some weeks ago on your website and I decided together with my colleagues to buy it on blurb.com. I can tell you that at the moment it is one of the most useful book on LTE we have and it allows us to save a lot of time while we are developing LTE protocol stack." Lorenzo Galati, Azcom Technology, June 2011.

"I bought your book a couple weeks ago. I found it extremely useful and I will likely refer to it in the future. From my perspective this book is of great value as it contains many of the details that are required in day to day work, and from which concepts and details can be referenced and found quickly. This book is particularly useful for radio engineering folks involved with network performance optimization and troubleshooting. Similarly, for readers which already have some level of understanding of LTE, this book can also serve as a good concept refresher and also fill in some details regarding particular aspects of LTE technology. The text itself is also written in a concise manner. Overall, a very good book for people involved with LTE technology." Andres Arjona, Nokia Siemens Networks, Japan, March 2012.

"I am really thankful to you for writing such a nice and to the point book - LTE in bullets 1st edition. I was in search of an LTE book which can give me enough details with end to end idea about the frame structures and channel mapping and of course in short number of pages. I tried many LTE books but grasping the concepts was not so easy there till the time I got the LTE in bullets first edition and came to understand from the book precisely what I was trying to know." Chandan Chaudhuri, Nokia Siemens Networks, India, July 2012.